Welcome to All 4 Paws Dog Training!
Positive about dogs, positive about people.
Hi! I am Donna Meszaros
My passion for animals has led me towards a lifelong career as a pet professional. I have been employed as an Assistant Veterinary Technician, provided pet sitting, dog walking, in-home training services, group/class dog training and organized much needed doggie play groups. I have also provided both group and in-home training services while subcontracting with an established Animal Behaviorist from 2002 to 2009. I bring thirty plus years of hands on experience to each training session as well as my creative influence. Above all else, I believe that training should be fun – why else would you want to do your homework if it wasn't?
My husband and I share our home (aka All4paws Ranch) in Bensalem, PA  with Kai (a GSD/Bully Mix), Nash (a Black Lab), Judge (a German Shepherd) and 2 cats, Milo and Hailey.
If you need any help
A dog teaches us
a lesson in humanity
What I Do
Using positive motivational techniques I put the tools into your hands so that you can teach your pet how to live in your home. Whether you utilize my group or private training, my goal is to provide you with the skills necessary to build a lifelong relationship that both you and your dog can enjoy for many years to come. And, because you do the training with my guidance (yes, you will have homework!); you build an important bond with your dog that you wouldn't form by having someone else do the work for you.
Whether you're introducing a new puppy or adult dog to your home, or want to go on to do some type of therapy or service work, have a working dog that needs a "job" or are having more severe issues, I have a training program for you. Some clients continue using a structured training program to reinforce good habits; much like a "diet program" helps to motivate individuals to stick with it.
A Message From Your Dog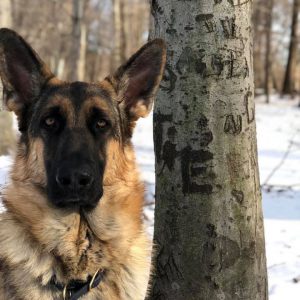 Did you know dogs leave a "message in a bottle" or "p-mail" for their neighborhood buddies on things like telephone poles, fire hydrants, trees ~ you get the idea. Most dogs enjoy "reading" these messages, as well as leaving a message of their own for the next dog. It's not just about marking – these messages tell the next passerby who was here before them: male or female, altered or intact and the woof goes on. Think of it as social media for dogs – their own Facebook page!
Training Tip: Use this "need to read" these messages as a reward and only allow your dog to approach the "library" if he is exhibiting leash manners.